The S.W.A.T. -team is the main group appearing in of The Raid: Redemption. It is heavily armed 20-man squad, mainly consisting of rookies, prepared to take down crime lord Tama Riyadi and his people.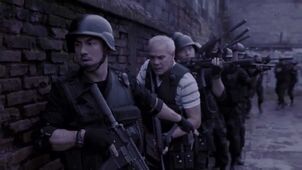 The squad is first seen in their car, preparing for the incoming raid of the Jakarta apartment. As they advance it gets more and more clear, that their mission is not official or approved by their headquarter. It turns out that Wahyu tries to use the squad to kill off the gangster boss Tama Riyadi, because of his knowledge about Wayhu's criminal past. In further consequence the HQ does not know their location and there is no way to get reinforcements.
After successfully entering the building complex held by Tama undetected, the Squad takes out quite a few henchmen - not killing but arresting them. Unfortunately the Team encounters a little kid in one of the floors of the building. Although Sergeant Jaka tries to calm it, the child aims to alert the rest of the gangsters. Before he can do so, he is shot by Lieutenant Wahyu. Nevertheless, the alarm gets set and Tama starts rushing his men against the police forces. Chaos begins and in the further course the squad increasingly gets decimated by the inhabitants, who use sneaky traps, snipers and their pure majority to eventually kill of the most of the officers. The already arrested gang members mostly manage to get rid of their handcuffs and take part in the assault. The police truck drivers are also seen executed by the gang members.
Soon officer Rama manages to give the remaining officers a time out, as he blows a gas tank against the addicts. The threat is momentarily eliminated, and officers are knocked out by the explosion as most of the addicts die. Soon after, only officers Rama, Wahyu, Jaka, Bowo and Dagu are left alive to complete the mission and escape the building. Rama treats his fellow officer Bowo, who is critically injured, and takes him in to Gofar's apartment. Jaka, Wahyu and Dagu disperse in another direction to find Tama.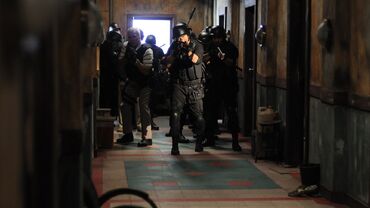 Jaka commands Dagu to protect Wahyu at all costs and is left behind to fight Mad Dog, who eventually kills Jaka. At the same time, Rama successfully drags Bowo in to Gofar's apartment, where they manage to hide from the criminals. Gofar starts to treat Bowo as Rama continues his journey to capture Tama, but eventually he finds Andi who is his brother. Tama finds out that Andi did not execute Rama and gives Mad Dog the order to kill Andi. Rama manages to find Mad Dog torturing Andi and together the brothers kill Mad Dog with a piece of glass.
Wahyu and Dagu manage to fight their way through to Tama. Wahyu, who is the only squad member left with a firing weapon, surprisingly betrays Dagu and kills him after he had restrained Tama. Soon after, Andi and Rama try to capture Wahyu. The Lieutenant on his part kills Tama out of sheer desperation over his hopeless situation, as he realizes after a short dialogue with Tama that his past in the criminal underground caught up with him and that the street gangs are going to try to kill him. Wahyu's own suicide immediately afterwards is only prevented by the gun, which is already empty. Shortly after Rama and Andi track Wahyu down in the stairwell to arrest him.
In the end of the movie, Rama, the arrested Wahyu and a limping Bowo can be seen leaving the terrain, accompanied by Andi. After a short discussion Andi tells Rama, that he won't go with them.
Equipment
Edit
The Squad Members use very modern fire weapons. The most of them are equpied with silenced HK416 Assault weapons and Glock 17 pistols. A few members use shotguns and are carrying axes, also using them as weapons. Furthermore they use police truncheons and knifes, Rama can even be seen using a grenade to let an propane tank explode.
Only three officers, Rama, Bowo and Wahyu, survive the raid. Two of them, Rama and Bowo (if his death scene is non-canon) are still alive.
Community content is available under
CC-BY-SA
unless otherwise noted.